Specialist in spare parts for household appliances, image and sound, habitat & home automation - n°1 in France​

SDS at the service of professionals for more than 45 years
Responsiveness, richness of the offer, support, digital solutions... our business evolves with yours!

Do you have particular needs ?
SDS offers solutions adapted to the size of your structure
You want to discover our offer?
Open an account, it's free!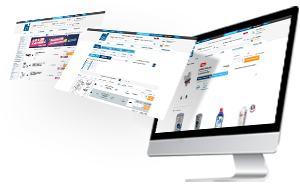 SDS solutions provider, the spare part is more than a profession!
The spare part is more than a profession, it is a real commitment for a more reasoned and responsible economy. For more than 45 years, SDS has been a major player in repairability. Today we are involved, alongside ADEME, in the working groups on the repairability index, durability and the repair fund. We also contribute to the Longtime label.
In everyday life, we provide professionals with the widest listing of spare parts and accessories for troubleshooting and maintenance of large and small household appliances, audiovisual , home automation, security and locking systems.
The market is changing, we are adapting and anticipating in order to best support our customers. We provide tailor-made services aimed at offering effective solutions according to each individual's profile: repairers, after-sales service, stores, pureplayers, communities, discounters.
We innovate and regularly adapt our services, our tools and our offer in order to best meet the needs of all our customers.
SDS: all the services to find your spare parts
Spare parts of household appliances
Look no further, SDS has THE spare part you need for the installation and repair of household appliances, audiovisual equipment and locking systems! With more than 5,000,000 references, SDS has the largest catalog of spare parts that you can access. Dishwasher, kitchen hood, washing machine, oven, refrigerator … with more than 900 brands available, you will never run out of supplies for your interventions on domestic or professional devices. In addition, our spare parts are delivered within 24 hours of your order. With SDS, you  found a trusted partner!
Repair household appliances
Power failure on an oven? Faulty gasket on a washing machine? Refrigerant gas circuit damaged on a fridge? Electrical short-circuit ? Each repair requires identifying the operating problem and replacing the damaged part. Discover the wide selection of household appliance parts from SDS as well as all the spare parts that will lead you to repair any equipment. Our tools make it very easy to find the spare part needed to repair a device or a locking system. Our ultra-professional logistics and our network of carriers make it possible to deliver the 40,000 parts in permanent stock overnight and very quickly for the parts that we order directly from national and international brands, which have been important partners since years.
As an expert in the online sale of spare parts, SDS brings you the benefit of its in-depth knowledge of appliance manufacturers and the home equipment market. Only SDS is able to offer you more than 5 million references, immediately available, for commonly installed household and professional appliances. Do not hesitate to ask us: we put our experience at your service! SDS offers its customers a coding service allowing their technicians to find a part very quickly. With more than 900 internationally renowned brands, we facilitate the repair of all equipment, regardless of the component to be replaced. Delivered within 24 hours, approved and clearly identified, SDS spare parts are a guarantee of responsiveness and reliability for all professionals.